Safety Issues for Working Class Railroaders
---
SUMMARY REPORT: Health and Safety Survey
Safety on Railroad Bridges
In 2015, the Brotherhood of Maintenance of Way Employees Division (BMWED) of the international Brotherhood of Teamsters funded three research teams to study the impact of workplace hazards on the safety, health, and welfare of its members. The objectives were 1) to clearly define the risks and impact of injury, illness, and death among the union's membership, 2) to provide materials to educate both current and future members so they will be able to live longer and healthier lives, and 3) to provide scientific data that can be used to help prevent injuries and illnesses affecting members (and other MOW workers unaffiliated with BMWED) through a combination of regulatory improvements and labor/management engagement. Read More… of this summary report… and view our letter(s) to the CEO's of the various railroads.
---
FAMES: Findings and Recommendations
Safety on Railroad Bridges
May 17, 2017 - The FAMES Committee has reviewed the available data from 14 railroad bridge fall accidents, in which 12 fatalities and 2 serious injuries occurred. Given that bridge workers1 constitute a small percentage of the railroad worker population, this is a significant number.
Unsecured walkways/gratings were the primary cause in one-half of the fatal accidents and serious injuries. Of grave concern is the fact that in several of those accidents, supervisors and employees were aware of the unsecured walkways/gratings but did not take necessary steps to mitigate the risk; in fact, in some instances the killed or injured worker helped unsecure the walkway/gratings. Read More...
---
Good Faith Challenge
March 3, 2016 - Roadway Worker Protection is governed by Federal Railroad Administration (FRA) regulations, 49 CFR 214, Subpart C, which provides for the good faith challenge procedure. Each railroad has implemented a program under the regulation which affords on-track safety to all roadway workers who perform duties on or in proximity to a track. Each railroad's program must spell out the good faith challenge procedures and the roles and responsibilities of employers and employees in the prompt and equitable resolution of challenges. Read More ... of this FAMES Safety Alert
---
BMWED Fatalities Involving being Struck by Roadway Equipment
January 2, 2015 - Since the implementation of the Roadway Worker Protection (RWP) regulations in 1997, there have been too many RWP accidents in which Roadway Workers were killed or injured. To date, FAMES has analyzed 41 Roadway Worker fatalities; 7 involved strikes by Roadway Maintenance Machines (RMMs), which includes hi-rail vehicles. Read More … of the FAMES Committee Report and Recommendations
---
Railroad Roadway Worker Safety
This is a synopsis from the NTSB's Special Investigation Report and does not include the Board's rationale for the conclusions and safety recommendations. NTSB staff is currently making final revisions to the report from which the attached conclusions and safety recommendations have been extracted. The attached information is subject to further review and editing. View NTSB publication. View NTSB publication
---
Notice of Proposed Rulemaking
Random Drug and Alcohol Testing
"MOW employees are at a high safety risk because they work along railroad track and roadbed and may suffer injury or death as a result of being struck by trains or other on-track or fouling equipment. Additionally, MOW employees directly affect the safety of railroad operations because they work on or near railroad tracks, operate on-track or fouling equipment, and assist in directing trains through work areas. The purpose of expanding part 219 to include MOW employees is to improve safety by reducing the rate of alcohol and drug use among the MOW employee population."
view the FRA Proposed Rule
---
FAMES: the Fatality Analysis of Maintenance-of-Way Employees and Signalmen
March 28, 2014 - Following the implementation of the Roadway Worker Protection (RWP) Rule in 1997, there have been a total of 42 fatal RWP accidents, in which 44 roadway workers have perished, as of January 1, 2012. The FAMES Committee was able to obtain data to analyze 39 fatal RWP accidents, which accounted for 41 of the 44 fatalities. The FAMES Committee analysis is based on the available data.
In 11 of the 29 cases where an adjacent track was present, the fatal accident occurred on the adjacent track immediately next to where the work was actually being performed. FAMES classified these 11 accidents as adjacent track fatalities. The available data indicates that all 11 adjacent track fatalities occurred on controlled track where track centers were 19 feet or less.
View findings and recommendations.
---
January 30, 2012 - Cell Phones and CMVs - The Federal Motor Carrier Safety Administration (FMCSA) and Pipeline Hazardous Materials Safety Administration (PHMSA) issued a final rule amending the Federal Motor Carrier Safety Regulations (FMCSRs) and the Hazardous Materials Regulations (HMRs). This rule was issued to improve safety by reducing the frequency of distracted driving-related crashes, fatalities, and injuries involving drivers of commercial motor vehicles (CMVs).
Motor carriers are now prohibited from requiring or allowing drivers of CMVs to use mobile, hand-held telephones while operating CMVs. The Final Rule becomes effective January 3rd, 2012. Read More...
---
Snow Removal at Amtrak Off-Corridor Station Platforms

December 2011 - Snow removal at station platforms has been an ongoing, unresolved bone of contention since the Roadway Worker Protection regulations when into effect in 1997. RWP gave serious consideration to the safety of workers on or about the right of way. Maintenance of way workers understands the dangers inherent to the railroad, and the exponential increase in danger that snow, ice, and freezing temperatures cause. Read More...
---
---
BMWED Track Inspection Time Study Report
August 2011 - Following is a copy of the BMWED Track Inspection Time Study Report and cover letter to FRA Administrator Joseph P. Szabo. The BMWED Report is based upon BMWED's Track Inspection survey sent to over 1500 BMWED-represented track inspectors nationwide in 2009. BMWED chose the Fontana Group to provide an independent, non-biased econometric analysis of the survey results and to present its findings and conclusions in a report to BMWED.

The BMWED Report has been delivered to the House T&I Committee, the House Subcommittee on Railroads, the Senate Commerce Committee, the Secretary of Transportation, and the FRA Administrator. BMWED will also submit a copy of the Report to the Rail Safety Advisory Committee (RSAC) which will soon be tasked by FRA with revising the Track Safety Standards relating to track inspection and automated inspection technologies.

BMWED conducted its independent survey and Report in response to the RSIA mandate that FRA conduct a Track Inspection Time Study and submit its report to Congress. A copy of the FRA Report can be viewed at: http://www.fra.dot.gov/downloads/TrackInspectionTimeStudyFR62911.pdf. Secretary LaHood recently submitted FRA's Track Inspection report to Congress.
Track Inspection Time Study Report (3.4mb)
President Simpson's letter to FRA Administrator Szabo (176kb)
---
PhilaPOSH Workers Memorial Day 2011
Pray and Fight
"If we lost twelve soldiers every day in Iraq or Afghanistan, this country would be outraged. Up in arms. And yet we lose twelve people just like you and me, every day on the job."
---
High Alert 2
In Fall 2005, the Teamsters released the results of the first known worker-generated study of day-to-day security measures in place on U.S. rails. That first Safe Rails / Secure America survey, which included 4,034 completed surveys from front-line rail workers, provided a chilling glimpse of the vulnerability of the nation's rail network to terrorism.
Now, four years later, a new survey of America's rail workers reveals that top U.S. rail carriers have failed to close the security gaps that put at stake the safety of rail workers and communities across the country.
Members of the Brotherhood of Locomotive Engineers and Trainmen (BLET) and the Brotherhood of Maintenance of Way Employes Division (BMWED)—the men and women who work on the nation's Class I railroads, including Burlington Northern Santa Fe Corporation, CSX Corporation, Kansas City Southern, Norfolk Southern Corporation, and Union Pacific Corporation—completed 7,280 surveys in Safe Rails / Secure America 2, evaluating safety and security measures in place on any one workday during the survey period.
The survey questions asked of the front-line rail workers were identical to those asked in the first Safe Rails / Secure America survey (with the exception of two new survey questions) and the workers' answers are startlingly similar to those given four years ago.
Despite efforts by the rail industry to improve the security of its operations, workers continue to report:
A frightening lack of security along the railroad tracks and in rail yards, despite news reports highlighting open, easy access to rail yards and rail equipment;

Skeleton crews and remote control technology replacing an experienced team of engineers and trainmen, the "eyes and ears" in the event of a crisis—even when freight trains are carrying hazardous material;

Minimal, inadequate security training for employees who would potentially be on the front line of any terrorist attack on the rails involving hazardous materials; and

A disturbing lack of progress by rail corporations in improving security along the rails at points of vulnerability, including locomotives, tracks, bridges and tunnels.
While the rail carriers appear to have made progress in some key areas, the overall results of the Safe Rails / Secure America 2 survey reveal that such improvement still falls far short of a viable, industry-wide rail security program that protects rail employees and U.S. residents who live near rail yards and lines.
Throughout the report, names of cities, landmarks, facilities, and other such identifiers have been excluded to prevent the report from compromising the security of any specific locations or facilities.
High Alert Part 2: Four Years Later Workers Continue to Warn of Security Gaps On Nation's Railroads, like its predecessor report, examines the rail security vulnerabilities reported by front-line rail workers across the country and recommends basic, common-sense requirements and more complex procedures to help ensure that the employees who work on the nation's railroads and the residents who live near them are indeed safe and secure. Download and view the report "High Alert 2", (4.5mb)
---
CLOSE CALL
Re-enactment of a track gang performing regular maintenance duties. 'Hit or Miss' is a Network Rail educational staff video, an absolutely brilliant piece of short film that demonstrates the dangers not only to staff but to all that have or will think about trespassing on the railway and how it affects all the people involved.
Caution - Strong Language
---
January 26, 2010 A "Dear Colleague" letter wherein the head of FRA talks about the 16 railroad worker deaths last year and asks us to be safe. View here.
---
Policy on the Safety of Railroad Bridges
FRA is amending its statement of agency policy on the safety of railroad bridges. The policy outlines suggested criteria for railroads to use to ensure the structural integrity of bridges that carry railroad tracks. This amendment adds provisions that will guide railroads in developing their own implementing programs that will ensure conformity with the provisions of this policy....read more
---
Amtrak RWP Workers Killed
General Chairman Dodd writes to Amtrak's Chief Engineer Vacca in reference to the Current Roadway Worker Safety Emergency
In a short five month period we have suffered two horrible roadway worker accidents. On March 13, 2008, a former Amtrak manager, Gary Graves, working as a consultant for Amtrak was struck and killed by a passing train outside of Providence, RI. Track Foreman Richard Mollette was mutilated in the same accident. Last week, on August 20, 2008, Signal Inspector Steven Rychwalski was struck and killed while working in New Carrolton, MD. read more of General Chairman Dodd's memo
The National Transportation Safety Board (NTSB) recently released investigative findings (read NTSB brief) conducted in connection with the Roadway Workers who were struck by Amtrak Acela Train 2154 in Providence, Rhode Island on March 13, 2008. A contractor was killed and two Amtrak employees were injured. (Read News Accounts)
---
Railroad Safety Enhancement Act of 2008
If signed into law, the legislation—S. 1889, The Railroad Safety Enhancement Act—would dramatically change several safety-related facets of daily railroad operations, including railroad workers hours-of-service, augmenting railroad employee training, and increasing federal safety inspections, among others.
The House version of this bill—H.R. 2095, The Federal Railroad Safety Improvement Act of 2007—was approved by a 377-38 margin last October. read more...
---
YouTube Video - This video is from the in cab camera on the lead locomotive of the West Coast Express, a commuter train that runs from Mission to Vancouver every morning. This incident happened in the Maple Ridge area where construction workers are building a new bridge which crosses over the tracks.
In the video shortly after it begins you will see a rectangular red sign on the right side of the track. This is the beginning of a maintenance gang's limits that are protected by what we call a form "B". To proceed past the "Red Board" the train crew must call the Foreman in charge of the gang to clear the train through the limits of the gang's "form B" via radio.
The train crew knows in advance when they go on duty at their initial terminal the location, duration, and Foreman of all "form Bs" on the territory they will be moving their train over on that day. The Foreman of this gang has already cleared the train to proceed through his limits. He was supposed to contact all members of his gang and ensure that they are clear of the tracks prior to clearing the train to proceed.
That did not happen in this case. Reason unknown. The engineer of the train is sounding his horn as he proceeds through the gang's limits, a normal procedure to warn workers that we are coming through.
As the train approaches the road crossing that is still fouled by the front end loader you will hear a loud blast of air on the video. This is the engineer "plugging" the train or applying the emergency brakes when he sees the loader on the track ahead. The train is traveling at about 60 mph. The loader operator is trying to get clear of the track, he does not have enough time. View video here.
---
No Watchman - A real life story captured on security cameras showing the inportance of proper safety practives. This man was caught in the wreck between a flat bed truck and a train. The good news is that he survived.
---
Maintenance of Way Workers Killed - On Tuesday, January 9, 2007, at 1:38 p.m., southbound Massachusetts Bay Transportation Authority passenger train 322 struck a track maintenance vehicle that was on the track near Woburn, Massachusetts. Of the six maintenance-of-way employees working on or near the track maintenance vehicle, two were killed, and two were seriously injured.
The National Transportation Safety Board determined that the probable cause was the failure of the train dispatcher to maintain blocking that provided signal protection for the track segment occupied by the maintenance-of-way work crew, and the failure of the work crew to apply a shunting device that would have provided redundant signal protection for their track segment. Read the NTSB report.
September 6, 2008 The FRA responds to NTSB recommendations.
---
Norfolk Southern's inadequate rail inspection causes Derailment - On Friday, October 20, 2006, a Norfolk Southern Railway Company train derailed while crossing the Beaver River railroad bridge in New Brighton, Pennsylvania. The train consisted of a three-unit locomotive pulling 3 empty freight cars followed by 83 tank cars loaded with denatured ethanol, a flammable liquid. Twenty-three of the tank cars derailed near the east end of the bridge, with several of the cars falling into the Beaver River. Of the 23 derailed tank cars, about 20 released ethanol, which subsequently ignited and burned for about 48 hours. Some of the unburned ethanol liquid was released into the river and the surrounding soil. Homes and businesses within a seven-block area of New Brighton and in an area adjacent to the accident were evacuated for 2 days. The Norfolk Southern Railway Company estimated total damages to be $5.8 million.
The National Transportation Safety Board determines that the probable cause of the derailment was the Norfolk Southern Railway Company's inadequate rail inspection and maintenance program that resulted in a rail fracture from an undetected internal defect. Read the NTSB report.
back to top
---
Federal Railroad Administration
Text messaging may have played a role in the Metrolink train crash that killed 25 people. According to an NTSB report, Robert Sanchez, the driver of the Metrolink train that crashed head-on with a freight locomotive, sent a text message just seconds before the crash. The Metrolink crash has led to laws banning text messaging while driving.

FRA Emergency Order #26 - is an emergency order to restrict on-duty railroad operating employees from improperly using cellular telephones and other distracting electronic and electrical devices. View FRA Emergency Order #26 in a printable version.
LINK to the Federal Railroad Administration
---
Roadway Worker Protection - FRA Technical Bulletins
G-05-30
"Quiet" power tools
G-05-29
Controlled points vs. manual interlockings
G-05-28
Portable radios and train approach warning
G-05-27
Whistle sounding and "on or about the track"
G-05-26
Shoving moves and whistle sounding
G-05-25
Revision to OTS prodedures and field manual
G-05-24
Adjacent tracks and small unit of major work
G-05-23
Retention of exclusive occupancy records by dispatcher
G-05-22
Exclusive track occupancy and emergencies
G-05-21
Other than maintenance of way crafts peforming duties
G-05-20
Effective securing device/other instruments
G-05-19
Contractor on-track safety training
G-05-18
Qualification of other than roadway workers providing OTS
G-05-17
Roadway worker in charge and multiple groups
G-05-16
Annual training and periodic qualification
G-05-15
Audible warning from train and duration
G-05-14
Operation of certain equipment on non controlled track
G-05-13
OTS while establishing working limits
G-05-12
OTS documentation
G-05-11
Dual power switch locations and individual train detection
G-05-10
Train approach warning and place of safety
G-05-9
Plant trackage and OTS for railroad employees
G-05-8
Audible warning from train for work over large area
G-05-7
Roadway worker in charge, generally
G-05-6
Identifiable location for exclusive occupany
G-05-5
Good faith challenge
G-05-4
On-track safety (OTS) training for train service employees
G-05-3
Lone worker, generally
G-05-2
Exclusive track occupancy, generally
G-05-1
Roadway Worker Protection Technical Bulletins
back to top
---
"An Injury To One Is An Injury To All"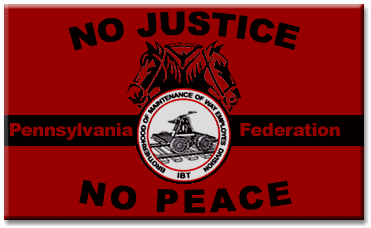 ---
Page Last Updated: Apr 03, 2019 (02:00:09)