National Agreements
---
National Agreements
January 18, 1994 National Work Force Stabilization Agreement
Conrail 1981 and 1985 Agreements

March 19, 1949

National 40-Hour Work Week Agreement

(4.01MB)

December 17, 1941

National Wage Increase Agreement

(1.02MB)

December 17, 1941 National Wage Agreement - Participating Carriers

(970KB)
---
February 7, 1965 Protection Agreement as amended, Mediation Agreement Case No. A-7128
---
February 7, 1965 Protection Agreement Questions and Answers, an educational on Feb 7 benefits.
---
"An Injury To One Is An Injury To All"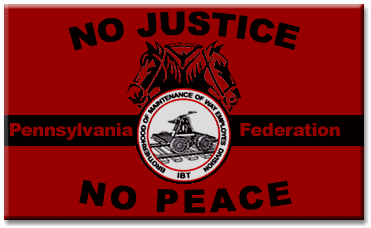 National Bargaining
National Bargaining for the round beginning November 2014 As you may know, another round of National Bargaining has resumed and will proceed through the coming weeks and months that lie ahead.

PEB 243
President Obama established Emergency Board (PEB) No. 243 on October 6, to investigate and make recommendations for settlement of the current disputes between the Rail Labor Bargaining Coalition (RLBC) and five other unions, and the National Carriers Conference Committee (NCCC).

Page Last Updated: Mar 08, 2018 (10:02:00)