Links Page
Links to other sites
We have provided links to other web sites which hold relevant information or interest. We choose our links carefully but cannot take any responsibility for the content of those linked web sites or for their privacy policies. Since we do not control these web sites, we encourage you to review their privacy policies before you use them.
Use of these links will open a new browser window or tab. Close the window or tab to return to the Pennsylvania Federation's site. Please report broken links by using the "CONTACT US" button located on the left under the Main Menu bar.
---
Union Links
BMWED-IBT

- Home of the Brotherhood of MW Employees
TEAMSTERS

- International home page for our parent Organization
AFL-CIO

- The American Federation of Labor and Congress of Industrial Organizations (AFL-CIO), a voluntary federation of 56 national and international labor unions. Also see

TTD

- Transportation Trades Department of the AFL-CIO
Change to Win

- Five unions and 5.5 million workers united in Change to Win to build a new movement of working people, which includes Teamsters
BLET

- Brotherhood of Locomotive Engineers and Trainmen
BRS

- Brotherhood of Railroad Signalmen
NCFO

- National Conference of Fireman and Oilers
TWU

- Transport Workers Union - Rail Division
UTU

- United Transportation Union
IBEW

- International Brotherhood of Electrical Workers - Railroad Division
---
BMWED Systems, Divisions, Federations & Locals
---
Government Links
ContactingCongress.org
- a very up-to-date database of congressional contact information for the current Congress. As of June 28, 2010 there are 536 email addresses (of which 532 are Web-based email homepages), and 538 WWW homepages known for the 540 members of the 111th Congress. Traditional ground mail addresses are available for all current members of Congress.
Also see our

tips

on Communicating with Elected Officials
The
United States Senate
- Home Page including Floor Schedules, Hearings, Legislation, Records, History, a Public Disclosure area and a find your Senator search function.
Subcommittee

on Labor, Health and Human Services, Education, and Related Agencies

Subcommittee

on Transportation, Housing and Urban Development, and Related Agencies

Committee

on Health, Education, Labor & Pensions

Committee

on Commerce, Science, & Transportation

Subcommittee

on Surface Transportation and Merchant Marine Infrastructure, Safety, and Security
back to top of page
---
Railroads
Amtrak - National Railroad Passenger Corporation
Burlington Northern Santa Fe - The product of nearly 400 different railroad lines that merged or were acquired over the course of 160 years
Canadian National Railway - A transportation company offering integrated transportation services: rail, intermodal, trucking, freight forwarding, warehousing and distribution.
Conrail - Consolidated Rail Corporation, operating freight services across mid and eastern United States
CP Rail System - Canadian Pacific
CSX - CSX Corporation, based in Jacksonville, Fla., provides rail-based transportation services.
Norfolk Southern - operates approximately 21,000 route miles in 22 states and the District of Columbia, serves every major container port in the eastern United States.
Conrail - Conrail restructured into a switching and terminal railroad that operates as an agent for its owners, NS and CSX, in the Shared Assets Areas of Northern New Jersey, Southern New Jersey/Philadelphia, and Detroit.
Union Pacific - covering 23 states across the western two-thirds of the United States
back to top of page
---
Agencies, Associations & General Interest
FRA - Federal Railroad Administration
NARP - National Association of Railroad Passengers
NTSB - National Transportation Safety Board
NMB - National Mediation Board
RRB - Railroad Retirement Board
STB - Surface Transportation Board
USDOL - United States Department of Labor
USBLS - Bureau of Labor Statistics
USDOT - United States Department of Transportation
back to top of page
---
Voter Registration
Have you moved, changed your address, need to update your voter information? Here's an easy place to do it. Just a couple of clicks away. Find your state and learn how simple voter registration can be, just click here.
---
Project Vote Smart
While you're here check out Project Vote Smart, the voter's self-defense system. Keep informed on the issues and the candidates. Discover Biographical Information, Voting Records, Issue Positions (Political Courage Test), Interest Group Ratings, Public Statements, and Campaign Finances
---
Seek the Truth
"All truths are easy to understand once they are discovered; the point is to discover them." - Galileo
---
Open States is a collection of tools that make it possible for citizens to track what is happening in their state's capitol by aggregating information from all 50 states, Washington, D.C., and Puerto Rico. OpenStates.org
---
World Federation of Trade Unions

, who's formation in October of 1945 was a victory in itself for the world trade union movement – a crowning achievement for the international working class. It was a qualitative new step and it was the first serious and stable attempt at global unity and coordination of the world proletariat against fascism, the domination of capital and imperialism.
---
Coalition of Labor Union Women is America's only national organization for union women. Formed in 1974, CLUW is a nonpartisan organization within the union movement.
The primary mission of CLUW is to unify all union women in a viable organization to determine our common problems and concerns and to develop action programs within the framework of our unions to deal effectively with our objectives. The

Coalition of Labor Union Women.org
---
Facts are facts, the rest is opinion, spin, deception, and lie. When facts are important - get the facts, nothing but the facts from FactCheck.org
---
Every day, the political candidates unleash a torrent of words: speeches, TV ads, press releases, Web pages, letters to contributors, interviews. Together it forms a huge river of rhetoric that can be overwhelming. Who can you believe?
When you're done checking the facts, check out what others are saying at PollingReport.com, the public opinion online site
---
With the corporate takeover of federal and state governments, more people are becoming politically active in new and creative ways. A growing culture of resistance is utilizing nonviolent direct action and civil disobedience as a primary tactic, and is forming real democratic organizations to empower local communities—as opposed to working within the corrupt, two-party system.
PopularResistance.org is a resource and information clearinghouse for this movement. From Veterans for Peace to Occupy Wall Street to the Tar Sands Blockade, here you will find links, tools and other resources to help you connect with groups and organizations in the movement. We also provide a daily stream of relevant news articles from around the web, and perhaps the most comprehensive national events calendar anywhere online.
PopularResistance.org seeks to aid in bringing movements for peace, justice, economic fairness and environmental protection together into an independent, nonviolent and diverse movement that can end the power of concentrated wealth, shift power to the people and put human needs before corporate greed.
---
OpenCongress.org brings together official government data with news coverage, blog posts, comments, and more to give you the real story behind what's happening in Congress. Small groups of political insiders and lobbyists already know what's really going on in Congress. We think everyone should be an insider.
---
OpenSecrets.org, the Center for Responsive Politics. OpenSecrets.org is your nonpartisan guide to money's influence on U.S. elections and public policy. Whether you're a voter, journalist, activist, student or interested citizen, use this free site to shine light on your government. Count cash and make change.
---
WashingtonWatch.com delivers the numbers behind proposed legislation and regulation. It is important to understand where these numbers come from and what they mean.
---
Based on Capitol Hill in Washington, DC, LegiStorm's first information product was a database of congressional staff salaries but we have now added other valuable information, such as the most comprehensive database of all privately financed trips taken by members of Congress and congressional staffers.
---
GovTrack.us takes you inside the legislative process on Capitol Hill. We have a team of paid reporters going where no one has taken you before inside Congress, and we combine those reports with nonpartisan reporting from other sources.
---
back to top of page
---
Caitlin Ryan Photography
Philadelphia's Premier Progressive Photographer
A professional photographer and friend of the Pennsylvania Federation who through her lens was able to capture the frustrations and suffering of Amtrak rail workers as we demonstrated against the Amtrak Board of Directors Chairman Anthony Coscia in New Brunswick, New Jersey on June 3, 2013 and Amtrak Board member Albert DiClemente in Hockessin, Delaware on July 15, 2013.
Caitlin's "Coscia Demonstration" images are viewable in our photo gallery. Ms. Ryan's contact information and portfolio are available on her web site at:
610-247-8785
---
Rude Mechanical Orchestra
NYC radical marching band… soundtrack to the revolution since 2004
The Rude Mechanical Orchestra is a 30-odd-piece New York City radical marching band and dance troupe. Through our music and performance, we strive to support people and communities working for social justice. We play protests, demonstrations, direct actions, picket lines, marches, benefits and events for good causes. We function as a democratic collective through consensus-based decision-making and we do not discriminate on the basis of musical ability.
back to top of page
---
"An Injury To One Is An Injury To All"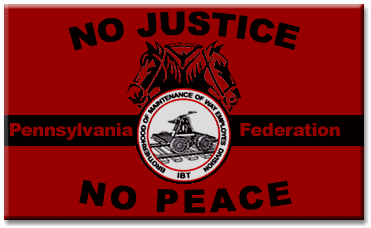 back to top of page
Page Last Updated: Jul 15, 2015 (15:52:23)